Wolverine Tools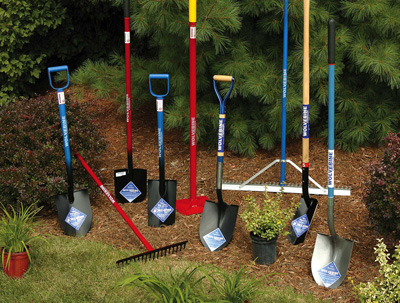 Wolverine Tools manufactures a complete line of lawn and garden tools. From leaf rakes to hand pruners you can find the proper tool or tools to meet your needs. Constructed of the toughest materials and with the highest quality standards, our lawn and garden tools will perform above and beyond expectations every time. The end result is a line of products vastly superior to the tools offered by major chain retailers. At Wolverine Products, we make "Tools-Not Toys".
Applications
• Raking lawns, landscape beds
• Spreading & loosening soil or mulch in yards
• Seeding smaller sized yards
• Leveling sand base for paver brick patios
• Digging post holes
• Sweeping debris (grass clippings, mulch, sticks, etc.) from sidewalks, driveways and road surfaces
• Cultivating, hoeing, loosening dirt and removing weeds for planting
• Yard clean up

Features
• Solid hardwood hickory handle
• Extra braces for more durability
• Chromoly steel tines and heads
• Steel drop-forged heads

Specifications
• Wood or pulltruded fiberglass handle
• Steel or poly-bristle head


• All pricing is subject to change. Delivery or Pick up is available.
Contact us or call 440-232-1700 for questions or current pricing.